CHINA'S EAST TEMPLE RIVER
SOLD THROUGH DANA GALLERY:
Dana Gallery - Missoula, Montana
www.danagallery.com
Host of the 2008 OPA National Exhibition
406.721.3154
246 North Higgins Avenue
Missoula, MT 59802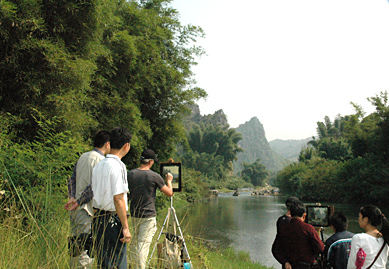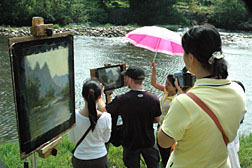 When our group arrived at this river, Scott and I knew exactly where we wanted to set up to paint. We chose a spot side-by-side on the bank of the river because of the perfect composition it provided with the mountains in the background accented with the bamboo in the middle ground and the river winding through it. We were halfway through the painting when a farmer appeared through a break in the trees and walked into the river to fill up his buckets with water for his crops. Scott and I briefly looked over at each other with a look that said, "Perfect!" and frantically proceeded to add him into the painting.