"The man who has honesty, integrity, the love of inquiry, the desire to see beyond, is ready to appreciate good art."
—Robert Henri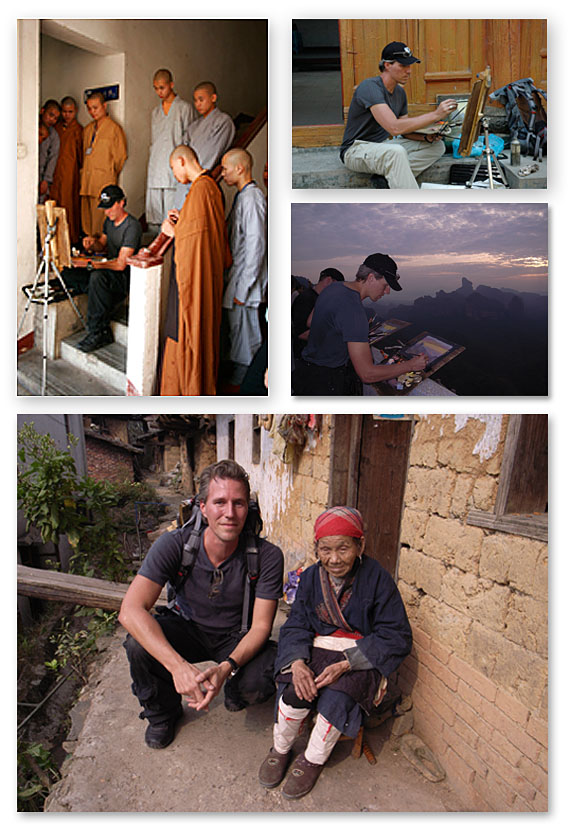 Wesley Drake was born in Buffalo, New York in 1970 and, from a young age, moved frequently to different cities due to his father's work; which seems to be the root of the strong sense of wanderlust that he possesses today. His travels have taken him to China, Argentina, Italy, France, Seychelles, Puerto Rico, Thailand, Mexico, Costa Rica, Japan and more, supplying an endless source of subject matter for painting. "Travel opens the door to discovering different cultures, architecture, culinary experiences and ways of life that I can't help but want to translate onto canvas," Wes says.

While acquiring his Bachelor of Fine Arts degree, with honors, Wes Drake solidified his artistic foundations and discipline in traditional painting methods. Upon moving to Chicago, he discovered the 100-year old Palette and Chisel Academy of Fine Art to be a great place to continue honing his skills with the community of artists found there.

Today, Wes lives in Chicago--which happens to be a great hub for international travel--with his wife Leesa, 2 cats, their dog, Mikey, Oliver the Russian red-footed tortoise and most recently, a boy named Adam. They love to travel frequently, run marathons (both have completed the Ironman triathlon, and have run marathons on 3 continents together) and take on any new adventure thrown their way.
In the Fall of 2006 Wesley James Drake went on a 3-week painting trip in China with a select group of artists organized by Zhiwei Tu that included Neil Patterson, Scott Tallman Powers, Ken Cadwallader, Clayton Beck III, Diane Hynes and Dudley Dana and Candace Crosby of the Dana Gallery.
Following are a few photos that highlight the trip: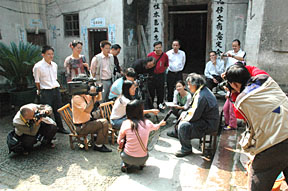 Zhiwei Tu being interviewed by newspaper and television crews.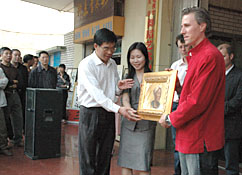 Wesley presenting the painting of the "Yao Man" to the Shaoguan Museum curators.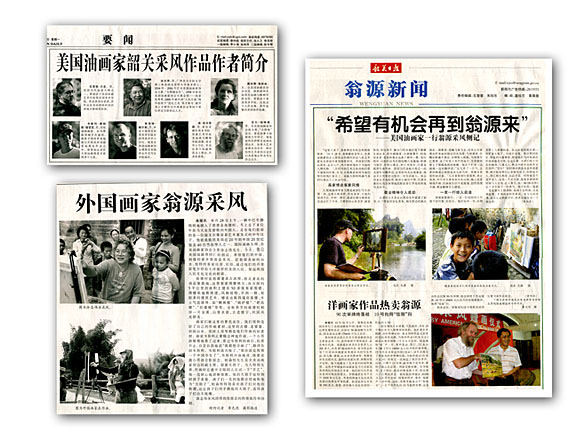 Newspaper articles about our group, the "American Oil Painters", in China.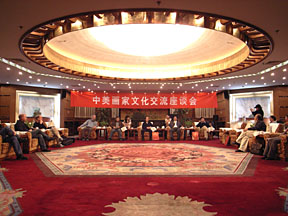 Meeting with the Ministry of Foreign Affairs to discuss the merging of
traditional Chinese painting and Western art.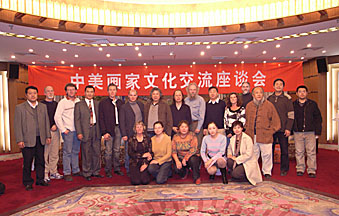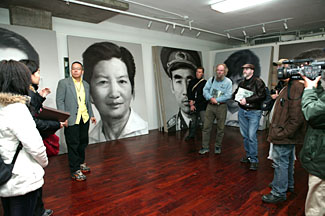 In the studio of the head of the Central Academy of Fine Art, Beijing

The auction held at Weng Yuen was quite a success with nearly all the paintings selling.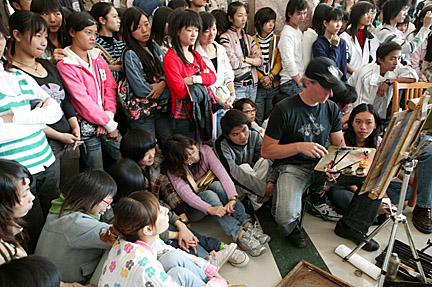 Painting demo for the students at the Shaoguan University, China
Affiliations

Plein Air Painters of Chicago

Palette and Chisel Academy of Fine Art

Oil Painters of America

American Impressionist Society
Museums

Academy Art Museum,
Easton, Maryland
Shaoguan Art Museum,
Shaoguan Province China

Exhibits

Around the Coyote Fine Arts Festival
—February 2004

Gold Medal Show, Palette and Chisel
—April 2004

Cedarburg Plein Air Competition
—June 2004

Palos Plein Air Invitational
—September 2004

The Plein Air Painters of Chicago Group Exhibit
—March 2005

Humboldt Park Group exhibit
—June 2005

Plein Air Easton Quick Paint Competition
—July 2005
The Plein Air Painters of Chicago Group Exhibit
—March 2006
Wengyuan, China, Exhibit and Auction with American Oil Painters
—October, 2006
Shaoguan University, China Group Exhibit
—November 2006
Shaoguan, China, Exhibit and Auction with American Oil Painters
—November 2006
Gold Medal Show, Palette and Chisel
—January 2007
Plein Air Painters of Chicago Group Exhibit
—March 2007
China Group Exhibit at Dana Gallery
—April 2007
Plein Air Easton National Painting Competition
—July 2007
Dana Gallery/Montana Plein Air Invitational
—October 2007
Bistro 110 Chicago exhibit
—February thruApril 2008
Salon International, Greenhouse Gallery
—April 2008
Oil Painters of America 17th International Juried Exhibition
—May 2008

Florida's Forgotten Coast Plein Air Invitational
—May 2008
Anne Irwin Fine Art Gallery
Atlanta Cityscapes show
—October 2008
Cliff Dwellers
Artist in residence show
—December 2009
Salon International, Greenhouse Gallery
—April 2009
Anne Irwin Fine Art Gallery
group show "Introductions"
—April 2009
Oil Painters of America 18th International Juried Exhibition
—May 2009
Solomons Paint the Town Plein Air Competition
—May 2009
Chicago Cityscapes Exhibit, Bistro 110
—February 2010
Salon International, Greenhouse Gallery
—April 2010
Anne Irwin Fine Art Gallery
group show "Southern Scenes"
—April 2010
Solomons Paint the Town Plein Air Competition
—May 2010
Scenes of the South
Anne Irwin Fine Art Gallery
—April 2010
Small Works Show
Anne Irwin Fine Art Gallery
—November 2010
All Stars Show
Dana Gallery
—December 2010
Western Masters presented by C.M. Russell Museum
—March 2011
Solomons Paint the Town Plein Air Competition
—May 2011
A Tale of Two Cities
Anne Irwin Fine Art Gallery
—June 2011
Dana Gallery All Stars show
—July 2011
Small Works Show
Anne Irwin Fine Art Gallery
—December 2011
Scottsdale Salon
of Fine Art
Legacy Gallery
—April 2012
Solomons Paint the Town Plein Air Competition
—May 2012
Dana Gallery Plein Air Invitational
—July 2013
Solomons Paint the Town Plein Air Competition
—September 2013
Salon International, Greenhouse Gallery
—April 2014
Dana Gallery Plein Air Invitational
—August 2014
Solomons Plein Air Competition
—September 2014
Dana Gallery Holiday Show
—December 2014